To overcome the challenges posed by Covid-19, businesses can utilise technology to manage their operations and improve their business performance.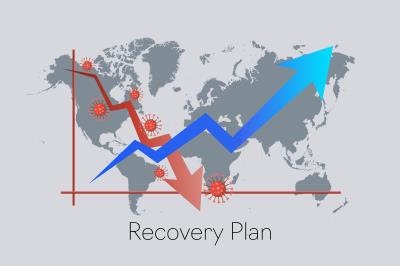 The New Normal
The world has been changed suddenly and dramatically by the Covid-19 pandemic and this puts enormous pressure on businesses to adapt quickly to the challenges of the "new normal" they have been thrust into.
Covid-19 spread across the globe rapidly in the space of a few months and it is continuing its spread across the world. Some countries that had apparent success in suppressing initial outbreaks are seeing infections rise again.
The WHO's emergency committee said in August 2020 "The pandemic is a once-in-a-century health crisis, the effects of which will be felt for decades to come."
On 19th June 2020, the WHO warned that the pandemic is "accelerating" and has reached "a new and dangerous phase." On 26th October 2020, Dr Tedros Adhanom Ghebreyesus (WHO Director General) said "Last week saw the highest number of Covid-19 cases reported so far."
Unfortunately, Covid-19 is here to stay and currently there is no effective treatment or vaccination against the virus. Any vaccine is still some way off and there is increasing evidence that there is no long lasting natural immunity after recovering from Covid-19. More alarmingly, there is increasing evidence of long lasting effects in those who recover from Covid-19.
This means that Australian and New Zealand businesses have to adapt to a world with Covid-19 and the ever present risk of another outbreak.
Covid-19 Challenges and Solutions
All of the world's economies have been hit hard by the Covid-19 pandemic and some of the world's largest economies have contracted rapidly in a short space of time. Unemployment all over the world has suddenly ballooned to the highest levels since the Great Depression.
We are in the grip of a global recession and now is the time for businesses to act to improve their systems and processes so they have the visibility to better manage their operations and meet the challenges posed by the Covid-19 pandemic.
Importance of an Integrated Information System
When the economy is in recession, businesses need to reduce costs and improve efficiencies as much as possible. Never before has it been more important for businesses to have real time information at their fingertips to make timely decisions and respond quickly to changing conditions.
An integrated ERP (Enterprise Resource Planning) business system can be used to collect data once and have it flow through the system where it is required. It acts as a single source of truth for real time up to date information and visibility for managing your business.
There is an initial cost in implementing the processes to use an ERP system effectively, but it will be repaid many times over as you use it to improve your business performance. The cost of not using an ERP system effectively may very well be higher than the cost of doing so.
Click here for information on the benefits of an integrated ERP system.
Click here for information on how an integrated ERP system is affordable for small to medium businesses.
Click here for information on how Ostendo Operations ERP is an affordable cloud solution.
Decision Support
An integrated ERP system can provide you with up to date, real-time information and visibility to control your processes and make critical decisions quickly.
Accurate real-time information empowers you to streamline decision making and improve responsiveness. Visibility of the right information at the right time is necessary for making timely decisions, responding to changing conditions and maintaining a competitive advantage.
Click here for information on Business Intelligence for decision support in Ostendo Operations (ERP).
Continuous Improvement
Becoming more efficient and reducing waste is the most effective way of reducing costs and increasing productivity. The Lean Thinking concept of Continuous Improvement is an approach to work that continuously and systematically seeks to identify opportunities for streamlining workflows to increase efficiency and productivity and reduce waste.
The steps businesses need to make to improve safety and hygiene in order to reduce the risk of workplace transmission of Covid-19 create challenges for efficiency and productivity.
Click here for information on how we can help you implement Continuous Improvement in Ostendo Operations (ERP)
Supply Chain Management
Border restrictions, industry lockdowns and reduced international airfreight have severely disrupted global supply chains. The resulting shortages have disrupted industry. Ostendo Operations (ERP) can provide you with the visibility to help you procure the proper materials and supplies when required to avoid shortages and overstocking.
One of the effects of the disruption to the global supply chain may be that businesses turn to local suppliers and reduce their dependence on overseas suppliers. This could lead to a resurgence of manufacturing in Australia and New Zealand.
Click here for information on how Ostendo Operations (ERP) is a solution for Supply Chain Management.
Click here for information on Material Requirements Planning (MRP) and procurement in Ostendo Operations (ERP).
Covid-19 Safe Work Practices and Compliance
Physical distancing and rigorous hygiene standards are set to be the norm in business for many years to come and this has changed the way businesses must operate in many ways. This presents challenges for productivity and efficiency. Businesses will also need to keep up compliance with government regulations and standards.
Click here for information on how Ostendo Operations (ERP) can be a solution for Covid-19 compliance.
Online Shopping and Contactless Delivery
With the drive to reduce physical contact, online shopping and contactless delivery have become a lot more popular. However it is essential that online sales are backed up by efficient processing of orders and warehouse mangement.
Click here for information on how Ostendo Operations (ERP) is a solution for Online Shopping and Contactless Delivery.
Customer Relationship Management (CRM)
It is essential that businesses refine and diversify their offerings to adapt to the situation and be ready to take up new opportunities. Experts are advising businesses not to cut costs on marketing but to spend on marketing to targeted audiences instead of spending on advertising. Never before has effective targeted marketing and customer relationship management been more important.
Click here for information on our Customer Relationship Management (CRM) coaching services.
Click here for information on Customer Relationship Management (CRM) systems linked with Ostendo Operations (ERP).
The Effect of Covid-19 on the Economy
The world is staring down the barrel of the deepest recession since the Great Depression and every country is affected. Damage to the world's major economies is four times worse than the 2009 global financial crisis, according to the Organisation for Economic Cooperation and Development (OECD).
You don't have to be an economist to know that the global economic repercussions from the Covid-19 pandemic will reverberate for quite some time to come. An effective health response to the virus is the only way to minimise the economic and social damage caused by Covid-19 and then achieve an effective recovery from it.
The economic and social impacts of the Covid-19 pandemic are unavoidable, but some countries have done better than others. Covid-19 is highly infectious and spreads exponentially very quickly if it is not contained early. Many countries have seen a few initial cases rapidly escalate into very high levels of cases in just a matter of days.
Australia and New Zealand Well Placed
Australia and New Zealand have earned international praise for their success in containing the Covid-19 outbreak. Apart from Victoria and New South Wales, community transmission of Covid-19 has effectively been eliminated in Australia and New Zealand.
Because they acted early and decisively, Australia and New Zealand were able to minimise the economic and social damage from the virus and have been able to resume normal economic activity much more quickly than many other countries. The lockdowns and border controls have been hard economically and socially for both countries but the alternatives were even worse.
Because Australia and New Zealand closed their borders and locked down early, they averted disaster and have been successful in flattening the curve and suppressing the community spread of Covid-19. Both countries have implemented some of the highest levels of testing in the world and robust contact tracing measures.
A Covid Safe Economy
It must be remembered that Covid-19 has not been eradicated from Australia or New Zealand and the danger of further outbreaks caused by border breaches will always be present until a vaccine is developed.
This means the economic recovery in Australia and New Zealand must be Covid Safe to mitigate the ever present risk of further outbreaks.
While Australia and New Zealand have given themselves an advantage compared to the rest of the world, they cannot escape the effects of the global recession. Businesses need to start preparing now to be part of the economic recovery from Covid-19.