Customer Relationship Management (CRM) and Quoting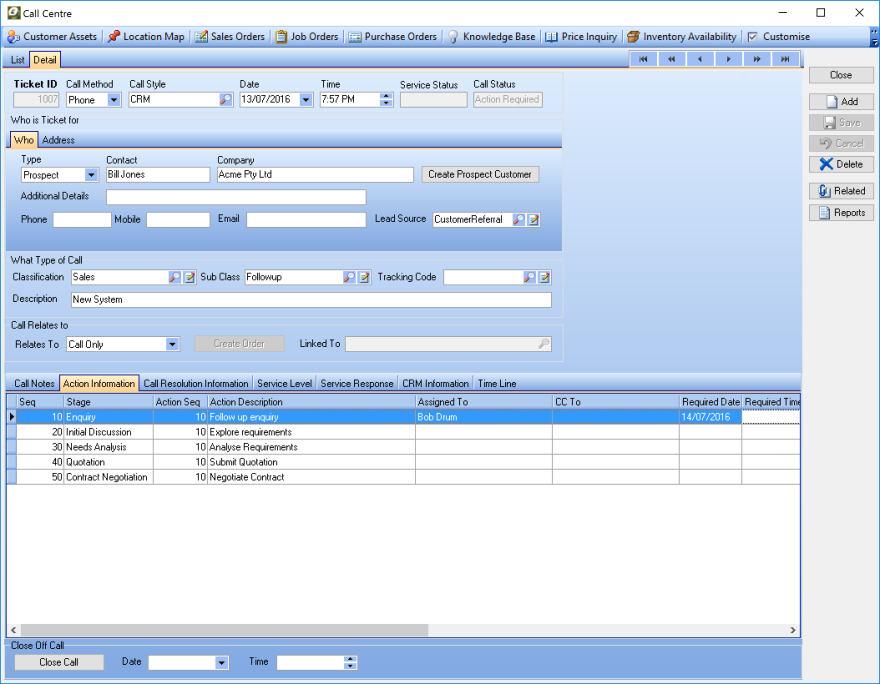 Customer Relationship Management (CRM)
CRM that is integrated with quoting and invoiced sales.
Database of customers, prospects and suppliers with multiple contacts.
Customer history notes with classifications for trend analysis.
Store customer emails using Email Services and the Outlook Addin.
Operations Centre for all information about customers in one place.
Multiple contacts per customer record with mail merge fields. Can export to Mail Chimp.

Call Centre can record and manage processes to be followed;

Customer Enquiries

Sales Opportinities with Sales Pipeline

Customer Complaints

Return Merchandise Authorisation's (RMA)

Service Requests

Call Centre supports processes with follow up actions allocated to specific staff with due date/time.
Reminders of actions due by To Do List and email using Email Services.
Customer service with response time tracking.
Activity Calendar for appointments and meetings

Create new customers or prospects.

Create quotes, jobs and sales orders.

Quote follow up with reminder.

Create multiple revisions of quotes. All treated as one quote for quotes won/lost analysis.

Close quotes as won or lost with reason codes and resolution codes.

Quotes won/lost reporting and analysis.

Automatically create a copy of won quotes to retain the original quote in case the quoted job or sales order is modified.

Extensive sales analysis by items, item categorisations, order or billing customers, customer type, region, lead source, sales person or other user defined criteria.
Sales budgets.
Budget reporting.
Customised Options
Customised report for filtering contacts for targeted direct marketing based on RFM principles (Recency, Frequency, Monetary) as well as region and other criteria. Export to excel for personalised email campaign through Outlook or Mail Chimp.
Customised commission reporting.
Customised integration with webstore upon application.
Customised links to external CRM systems upon application.
Quoting
Quotes for sales and jobs
Multiple revisions of quotes
Quote one job to many main contractors
Custom products can have a unique cost and price per configuration with quantity breaks
Quote letter or formal quote showing single price with information or detailed pricing
Quote converted to a sales order or job
Quote lost reason codes
Quotes won/lost reporting
Ostendo Freeway CRM & Quoting
Create a sales opportunity

Create a job quote

Create a sales order quote