Data from MicroScan SCADA can be captured into Ostendo Operations (ERP) for reporting and analysis to support Quality Management, Compliance and Plant Maintenance.

Ostendo ERP and MicroScan SCADA
MicroScan is a world leading Supervisory Control and Data Acquisition (SCADA) system that is flexible and conforms to industry standards. It provides a comprehensive view of plant to discover and resolve problems which reduces cost and improves efficiency.
MicroScan SCADA supports compliance of standards and quality assurance such as the ISO 9000 series including AS/NZS ISO 9001:2016 and the Food Standards Australia and New Zealand (FSANZ). MicroScan SCADA also conforms with the US FDA requirements that monitoring data for food manufacturing be held in binary format files that cannot be edited in order to prevent falsification of records.
Data from MicroScan SCADA software can be captured in Ostendo Operations (ERP) to support Quality Management, Compliance and Preventive Maintenance.
This is particularly applicable for food, natural products, pharmaceutical and chemical manufacturing. Data captured by SCADA such as temperature readings for a batch of food product can be recorded in the Ostendo database for quality assurance and compliance tracking. KPI's and reporting can uncover trends and issues that need to be improved upon.
It is also applicable for plant and equipment maintenance. Readings such as cycles and time recorded against an asset in Ostendo could be used to trigger preventive maintenance work. Other readings such as temperature could be used to indicate the need for reactive maintenance work.
MicroScan SCADA is developed by Intech Instruments who operate in Australia and New Zealand. They also manufacture and distribute quality state of the art products for the measurement and control of temperature, humidity, pressure, strain, force, flow, level, pH, conductivity, cycles and time.

We work with Intech Instruments to implement the data exchange interface between MicroScan SCADA and Ostendo Operations (ERP).
About the MicroScan SCADA System
MicroScan SCADA software connects to the Intech Micro 2100 series Remote Station hardware modules to form a complete Supervisory Control and Data Acquisition (SCADA) system.
MicroScan combines all the basic datalogging functions into one package and performs the function of regularly gathering information, checking alarm states, displaying data, plus historical analysis and Man-Machine Interface (MMI) operator interface.
MicroScan SCADA is is developed around a multi-tasking modular concept so that it can meet specific requirements. As processes grow new modules can be added. It consists of a Recorder module for gathering valuable data, while the Mimic module provides screens which give the operator direct plant control.
The Recorder is the data acquisition component which can display current information instantaneously or historically with on screen viewing as far back as required. The Mimic module provides total process control of your plant. It consists of screens set up as a pictorial depiction of a section of the plant to display objects showing process variables and the operating status of the plant equipment. It features command buttons and switches to control set points and operate your equipment.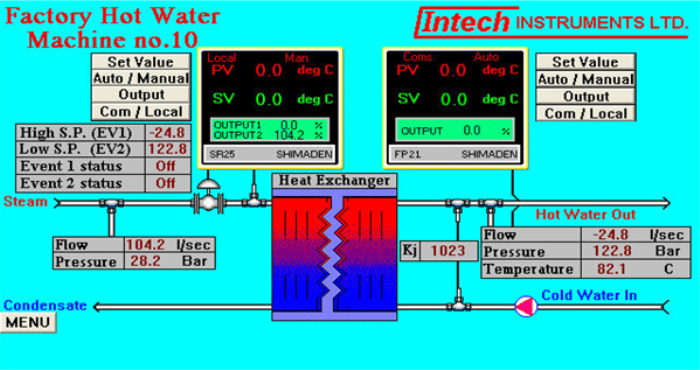 Secure Uninterrupted Monitoring Anywhere
MicroScan SCADA is designed for uninterrupted monitoring of sensors and equipment anywhere, including remote locations even for mobile equipment.
MicroScan SCADA operates on Windows Local Area Networks (LANS), Wide Area Networks (WANs) or Wireless Personal Area Networks (WPANS) using the ZigBee® protocol. Zigbee® is a standards-based wireless technology developed to enable low-cost, low-power wireless machine-to-machine (M2M) and internet of things (IoT) networks.
MicroScan SCADA is designed to automatically reconnect if it is disconnected, but it will continue to save data if it is disconnected.
Security and reliability is built into the MicroScan SCADA system by Intech Instruments and this has been one of the reasons why MicroScan SCADA is a world leader.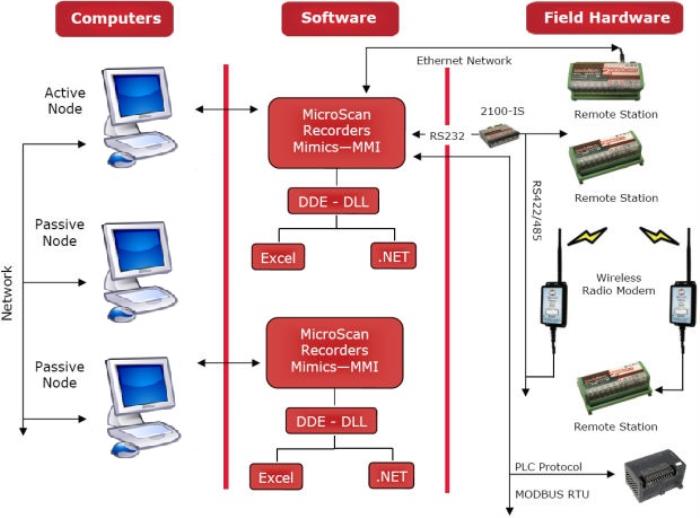 Related Articles