We bring together multiple interconnected systems to provide a Quality Management System to help you to improve your business performance.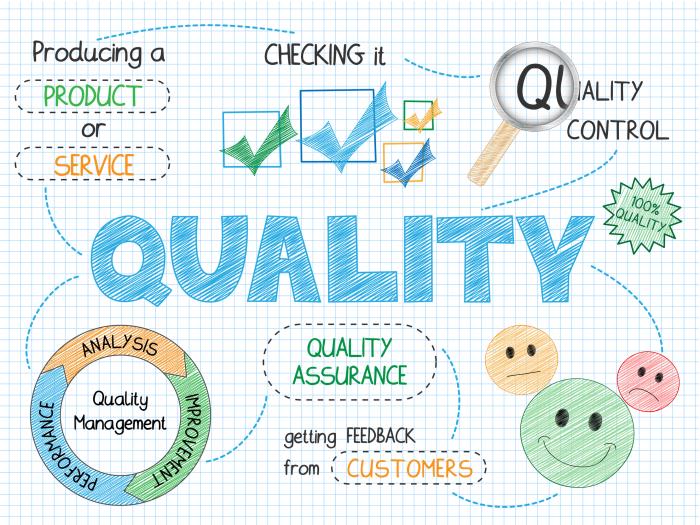 Quality Management System (QMS)
Effective Quality Management Systems are required when an organisation needs to demonstrate its ability to consistently provide products and services that comply with customer and applicable statutory and regulatory requirements.
Businesses can build a reputation for quality by gaining accreditation with a recognised quality standard, such as ISO 9001, published by the International Organisation for Standardisation.
Accreditation to a recognised quality standard may be essential for dealing with certain customers or complying with legislation. Businesses that sell products in regulated markets, such as such as health care, food or electronics, must be able to comply with health and safety standards designed to protect consumers.
We bring together multiple interconnected systems to provide Quality Management that may be comprised of any of the following systems;
Ostendo Operations (ERP) with optional customised Quality functions
Ostendo Freeway Mobility
Business Intelligence
Flowingly Business Process Management
Repstor Document and Content Management
MicroScan SCADA
XL800 Visual Productivity Monitoring Device
3WS Dispensing System linked with Ostendo Operations (ERP)
Quality Accreditation
We do not provide quality accreditation consultancy but collaborate with Quality Consultants who do provide those services. We implement our systems to support Quality accreditation.
Continuous Quality Improvement
We follow Lean thinking and principles in implementing Quality Management systems to support Continuous Quality Improvement. The objective of Lean thinking and concepts is to build quality into products and services.
Six of our consultants have extensive experience in Lean but we are not Lean consultants. We partner with Lean consultants who have proper experience and expertise and a proven track record of success. We implement our systems to support the Lean implementation.
Click here for more information about our business process improvement services
Ostendo Software
Ostendo Operations (ERP) and Ostendo Freeway mobility have extensive functionality for Quality Management including;
Manufacturing management (SOP), specifications, instructions
Supplier analysis and evaluation
Product specification and compliance
Asset and equipment management
Employee qualifications and training
Quality Control for manufacturing and procurement
Testing and verification
Quality Assurance
Continuous Quality Improvement
Data Analysis
Corrective and Preventive Actions (CAPA)
Ostendo Operations (ERP)
Inventory traceability by batch number, expiry date, serial number and revision number.
Standard operating procedures in Bills of Material and linked documents.
Nested serial numbers within a serial tracked item.
Vendor Analysis for price, quality control and on time delivery.
Document and Image Library with linked documents and images to any record.
Date stamped History Notes.
Employee qualifications and training.
Equipment certification management.
Company Assets with readings and service history.
Planned preventive service and maintenance and reactive breakdown maintenance.
Call Centre can record and manage incidents that requires a process to be followed, with classifications for trend analysis and reporting, eg;
Quality Non-Conformances
Continuous Improvement Initiatives
Corrective and Preventive Actions (CAPA)
Engineering Change Request and Notice
Return Merchandise Authorisations (RMA)
Click here for more information on Ostendo Operations (ERP) software
Ostendo Freeway Mobility
Internal datasheets can be used to drive quality control.
Conditional checklists can be used create quality control checklists which can optionally finish with a 'Pass' or 'Fail' result.
Quality Control checklists can be used for;

Purchase receipts
Completion of work order routing steps
Finished goods receipts from work orders
Installation of equipment
Completion of jobs or project stages

Statistical Quantities can be used to record quality control data such as temperature readings, quantity complete and number of rejects. The recorded quantities can be set to update statistics of the associated product or service.
Capture multiple signatures for sign off.
Add internal or external notes. View past history notes against products, assets, jobs or customers.
Use voice recordings instead of typing notes, or record noises for service purposes.
Integrates with device camera to take photos or link to existing images on the device.
Draw on photos to highlight points of note or draw freeform sketches.
Forwarding of a partially completed Datasheet by one user to another, eg to managerment for approval.
Mobile field service.
Pre start checks.
Click here for more information on Ostendo Freeway Mobility
Customised Quality Module
We can customise simple to complex functions and modules in Ostendo Operations (ERP) for specific Quality Management requirements to supplement the standard Quality functions. This can range from additional tables for capturing specific data such as laboratory test results received via EDI, through to a whole Quality Management module added to Ostendo Operations (ERP).
Click here for more information about our customised solutions
Data Analysis (Business Intelligence)
Business Intelligence plays a big role in analysing statistical data to identify quality problems and measure actual performance against benchmark metrics. Records of product returns can also be analysed over time to identify specific problems or trends. From this analysis, changes to production processes or quality controls can be recommended to eliminate problems.
Ostendo Operations (ERP) advanced report writer
Power BI
Klipfolio
Power OLAP
Data Warehousing
Click here for more information about our business intelligence solutions
Repstor Document and Content Management
Repstor is an Enterprise Content Management (ECM) system that integrates with Sharepoint and Outlook in Office 365.
Document Management
Maintain Documents and Records for Compliance with a full knowledge base
Compliance Documents
Regulatory Documents
Industry Best Practice
Controlled Documents
Records Management – Retention Policy, Version Control, Audit Trail
Restrict Access to sensitive/Compliance documents
Enforce metadata standards to easily locate documents
Make documents available online to those that need it and have the required permissions
Stakeholders
External and Internal Stakeholders records include;
Organisation Details
Department Details
Contact Details
Management Processes
Contains documents and processes that for the framework of the Quality Management System
Regulatory Compliance Requirements
Industry Compliance Requirements
Regulatory and Industry Standards
Quality Policy
Strategy
Planning
Processes
SWOT Analysis of QMS capabilities
Process Flows
Risk Management
Identify Risks and mitigate them. Risks can be for any part of the organisation and are not limited, such as Health & Safety, Production Risks, Machinery Risks, Site Risks, Reputational Risks, Financial Risks, Motor Vehicles etc.
Create Risk Profiles
Identify Risks
Analyse likelihood of risk occurring
Categorises the severity of the risks
Defines Controls to mitigate risks
Logs Incidents – Health & Safety, Vehicle, Financial, Production, Machinery etc
Define Incident Planning, Policy, and Procedures
Continuous Improvement Processes
Adheres to the principles of Continuous Improvement cycle -> Plan-Do-check-Act (PDCA) in a continuous process. Non-conformances are again re-evaluated at the conclusion of each cycle.
KPI's and Objectives against Regulations, Policy and Strategy
Non-Conformances – Identified non-conforming attributes or activities
Corrective and Preventative Actions – (CAPA) to mitigate Non Conformances
Opportunities of meeting standards – Marketing, Reputation, etc
Management Reviews – Internal Checking
Audit – Compliance, Industry & Internal audits including past audit results
Audit Questions – specific questions that are repeated each audit
Training Courses
Asset and Equipment Management
Maintain the standards for assets and equipment, maintains service and calibration plans and records
Standards required for machines and equipment
Calibration of measurement equipment
Ensure compliance standards are met
Click here for more information about Repstor Enterprise Content Management (ECM)
MicroScan SCADA
MicroScan is a Supervisory Control and Data Acquisition (SCADA) system developed by Intech Instruments that is flexible and conforms to industry standards. It provides a comprehensive view of plant to discover and resolve quality problems.
MicroScan SCADA supports compliance of standards and quality assurance such as the ISO 9000 series including AS/NZS ISO 9001:2016 and the Food Standards Australia and New Zealand (FSANZ). MicroScan SCADA also conforms with the US FDA requirements that monitoring data for food manufacturing be held in binary format files that cannot be edited in order to prevent falsification of records.
Data from MicroScan SCADA can be captured in Ostendo Operations (ERP) to support Quality Management and Compliance. This is particularly applicable for food, natural products, pharmaceutical and chemical manufacturing. Data captured by SCADA such as temperature readings for a batch of food product can be recorded in the Ostendo database for quality assurance and compliance tracking. KPI's and reporting can uncover trends and issues that need to be improved upon.
Click here for more information about Microscan SCADA
XL800 Visual Productivity Monitoring Device
The XL800 Visual Productivity Monitoring Device provides plant wide, real-time data for a true visual factory, along with web based historical reports to enable continuous improvement decisions.
Having a highly visual workplace is a critical part of lean and continuous improvement. Understanding data, including Rejects, Downtime Losses, Changeovers, Overall Equipment Effectiveness (OEE), and more, in real-time provides the greatest opportunity to improve productivity and quality.
Click here for more information about the XL800 Visual Productivity Monitoring Device
3WS Dispensing System
3WS is a Dispensing System developed by Wayahead for the food, pharmaceutical and nutritional industries. The main 3WS Dispensing module will manage all aspects of a manufacturer's weighing requirements. Core functionality covers Lot/Batch number barcode scanning, then electronic balance selection and regular calibration.
The data exchange interface with 3WS provides specialised shop floor data collection into Ostendo Operations (ERP). Data about raw materials, lot/batch numbers and released manufacturing work orders is sent from Ostendo Operations (ERP) to 3WS. After raw materials are dispensed through 3WS to work orders, the data collected is sent back to Ostendo Operations (ERP) to issue the raw materials out of inventory to update actual material usage on the work orders.
Our data exchange interface can be modified to meet specific requirements, such as Allergen information and valid substitutes for raw material items.
Click here for more information about the 3WS Dispensing System
Related Articles