Ostendo Freeway is not just an app - it is a Mobile Business Platform designed for Enterprise Mobility across all areas of the business.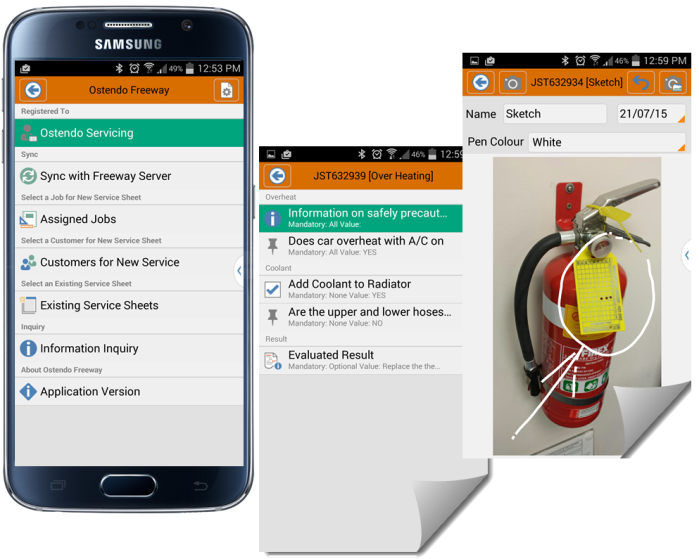 Enterprise Mobility
Ostendo Freeway is an Enterprise Mobility system for Ostendo Operations (ERP) developed by Development-X in New Zealand for Australian and New Zealand businesses.
Ostendo Freeway is tightly integrated with Ostendo Operations (ERP) software and provides users with innovative mobility solutions across a broad range of functional areas. It is designed for Enterprise Mobility across all areas of the business.
Ostendo Freeway is a mobility platform for field or onsite service, contracting, sales, deliveries, CRM, compliance, health and safety, quality management, warehousing, manufacturing shop floor data collection, KPI dashboards, inquiries and more.
Ostendo Freeway has the functionality to provide mobility solutions to almost any business or organisation.
One App - Many Solutions - Infinite Possibilities
The Enterprise functions of Ostendo Freeway integrated with Ostendo Operations (ERP) include;
Business Process Management

Quality Management

Compliance

Health and Safety

Field or Plant Service and Maintenance

Manufacturing Shop Floor Data Collection
Warehouse Management

Purchase Receipts
Transfers
Stock Counts
Sales Order Picking
Deliveries

Field Sales
Customer Relationship Management (CRM)
Field Jobs and Projects
B2B Sales and Service
Business Intelligence
Operating System
Ostendo Freeway is a native Android and Apple iOS application designed to run on smart phones and tablets. The screens are designed to scale automatically from smart phones to tablets.
Ostendo Freeway synchronises with the Ostendo Operations system database via the Ostendo API connecting via the internet or via a Wi-Fi wireless network. SSL security encrypts data transactions to prevent unauthorised access of data in transmission with mobile devices.
Can Operate Outside of Network Coverage
Ostendo Freeway can be used outside of network coverage and synchronise data when back in coverage. Only internal warehouse management and manufacturing functions require an active connection as they update inventory in the Ostendo Operations ERP system real-time.
Ostendo Freeway is a true native application that runs on a smart device with its own relational database. It doesn't just cache data like most other mobility apps that run on an internet connection. Because Ostendo Freeway runs on a smart device with its own relational database, its speed and performance is not affected if the speed and quality of internet coverage is low.
Fast and Simple Setup
The primary objective of Ostendo Freeway is to enable you to quickly set up and deploy customised mobile solutions that can improve your business performance.
Ostendo Freeway is not hardcoded or forms based as with most other mobility apps on the market. It is designed to be solution driven, enabling you to setup your own user definable solutions within the system. No programming skills are required.
Define Your Own Solutions
You create your own user definable solutions that can be made up of any combination of objects, such as time sheets, material lists, notes, check lists, images, signatures, sketches and much more.
You can create any number of solutions for specific types of work, applications, clients or employees. You can define what data is to be displayed and/or collected, what is mandatory and what is not.
Ostendo Work Cloud Repository
In the near future Ostendo Freeway will work with Ostendo.Work, which is a cloud repository for storing data and tracking statistics yet to be released. Ostendo Work will be able to be used with Ostendo Freeway linked to Ostendo Operations (ERP) for a wide range of applications such as Quality Management, Asset Service & Maintenance and Compliance.
Easy to Use
Ostendo Freeway is intuitive and easy to use. The flow of work and simplicity of use is controlled by how the solution is designed.
About the Developers
Development-X have been in designing and developing affordable off-the-shelf operational software systems for small to large businesses since 2000.
Development-X specialise in developing systems for manufacturing, service and maintenance, distribution and contracting. The experience of the developers from previous management and consulting roles in these industries means that the systems they develop are designed to be practical solutions that meet real industry requirements.
Ibis Business Intelligence Solutions has been a leading Ostendo Consultant Partner since Ostendo Operations was first released in 2007. We are based in Australia and New Zealand.
Related Articles