Our data exchange with the 3WS dispensing system by Wayahead provides automated and precise shop floor data collection for process manufacturing with Ostendo Operations (ERP).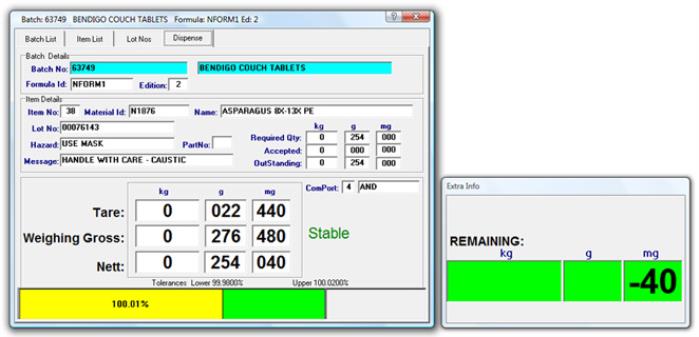 Ostendo and 3WS Dispensing System
We have developed a data exchange interface between Ostendo Operations (ERP) and the Wayahead 3WS Dispensing system.
Ostendo Operations (ERP) has in depth functionality for the food, natural products, complementary medicines, cosmeceuticals, nutraceuticals and pharmaceutical industries. The data exchange interface with 3WS provides specialised shop floor data collection into Ostendo Operations (ERP).
Ostendo Operations (ERP) sends data about raw materials, lot/batch numbers and released manufacturing work orders to 3WS. After raw materials are dispensed through 3WS to work orders, the data collected is sent back to Ostendo Operations (ERP) to issue the raw materials out of inventory to update actual material usage on the work orders.
Our data exchange interface can be modified to meet specific requirements, such as Allergen information and valid substitutes for raw material items.
3WS is available from Wayahead who will work with you to evaluate and implement the system. We work with Wayahead to implement the data exchange interface between 3WS and Ostendo Operations (ERP).
About Wayahead 3WS Dispensing System
3WS is a Dispensing System developed by Wayahead for the food, pharmaceutical and nutritional industries.
The main 3WS Dispensing module will manage all aspects of a manufacturer's weighing requirements. Core functionality covers Lot/Batch number barcode scanning, then electronic balance selection and regular calibration.
Once the balance is selected, the operator weighs the empty container Tare weight, then proceeds to weighing to the target quantity. A graphic colour display, moving from Yellow (low) to Green (OK) to Red (high) assists the operator to weigh to the required level.
A dispensing label can be printed, which contains a barcode, for re-checking during the mixing phase. Some manufacturers weigh into Intermediate Bulk Containers (IBC) with final IBC Gross weight reconciliation checking.
Other weighing activities, for Lot/Batch number premix weighing, tablet weighing, reverse weighing (usually liquids) and bag-weighing are available. Campaign weighing or bag-counting can also be used, if the same material, is weighed across many work orders.
Many other important features, such as Lot/Batch number potency calculation, followed by material (excipient) calculations, quantity sufficient calculations etc are available within 3WS.
Related Articles