Continuous Quality Improvement is a systematic approach to Quality Management for achieving ongoing improvements in business performance.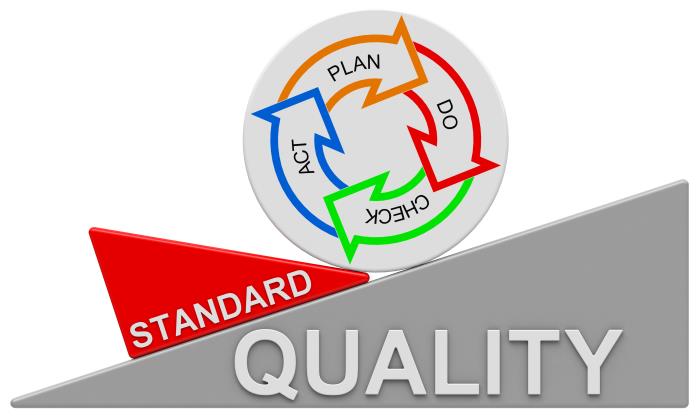 Quality Management
Managing quality is crucial for all businesses in all industries, whether manufacturing, engineering, distribution, preventive service and maintenance, contracting or construction.
Quality management ensures that an organisation, product or service is consistent. Quality management is focused not only on the quality of products and services, but also on the means to achieve it. Quality management uses quality assurance and quality control to achieve more consistent quality.
Quality Assurance is process oriented and relates to how processes are performed or how a product is made. This differs to Quality Control which is product oriented and relates to the testing and inspection aspect of quality management. Quality Assurance is about doing the right things, the right way whereas Quality Control makes sure the results of what was done is what was expected.
Auditing is a part of Quality Management that is important to ensure quality. It is used to compare actual conditions with requirements and to report those results to management, government agencies, regulators and certifiers.
Quality Assurance (QA)
Quality Assurance is the part of Quality Management focused on providing confidence that quality requirements will be fulfilled.
Quality Assurance comprises a quality improvement process to establish processes which supports the achievement of consistent quality. It comprises procedures implemented in a Quality Management system so that requirements and goals for a product, service or activity will be fulfilled. It is the systematic measurement, comparison with a standard, monitoring of processes and statistical analysis with the goal of continuous improvement of quality.
Quality Control (QC)
Quality Control inspection is the process of measuring, examining, and testing to gauge one or more characteristics of a product or service and the comparison of these with specified requirements to determine conformity. Products, processes, and various other results can be inspected to make sure that the item being manufactured, or the service being provided, is correct and meets specifications.
Quality Standards
Accreditation to a recognised quality standard may be essential for dealing with certain customers or complying with legislation. Businesses that sell products in regulated markets, such as such as health care, food or electronics, must be able to comply with health and safety standards designed to protect consumers.
Many manufacturers will insist that their suppliers achieve accreditation with quality standards. Accreditation can also help businesses win new customers or enter new markets by giving prospects independent confirmation of their ability to supply quality products.
Businesses can build a reputation for quality by gaining accreditation with a recognised quality standard, such as ISO 9001, published by the International Organisation for Standardisation.
Continuous Quality Improvement
Continuous Quality Improvement involves a cycle of defining a problem, mapping the process, identifying improvement opportunities, implementing the improvements and continually monitoring the results for improvement opportunities.
Management Commitment - Continuous quality improvement requires an explicit commitment from management and a continuous effort to improve business processes and output. Having key executives issue the applicable policies and procedures and ensuring that they have approved the necessary resources demonstrates commitment. Quality improvement initiatives quickly fizzle without strong backing and investment from management.
Employee Engagement - All employees should be aware of the importance of quality. Continuous quality improvement is not possible without employees who are committed to the effort. Employees are closest to the daily operations of the business, so it makes sense that engaging them in creating a culture of continuous quality improvement.
Structured Processes - There must be a defined process for engaging in improvement in order to manage Continuous Quality Improvement efforts across the business with the technology to support it. An ERP system and/or Quality Management System provide a central repository of data and information which is accurate and up to date.
Data Analysis - It is essential to establish benchmark metrics and key performance indicators for each improvement activity and capture the data to measure actual performance. Business Intelligence plays a big role in analysing statistical data to identify quality problems and measure actual performance against benchmark metrics. Records of product returns are also analysed over time to identify specific problems or trends.
The growing adoption of Internet of Things (IoT) sensors and smart devices is automating data collection and providing more details for reporting. This opens up more opportunities to improve operating efficiency. From this analysis, changes to production processes or quality controls can be recommended to eliminate problems.
Document Control - Document control is a key component of quality. It is important to know who approves documents, who receives them and which versions are valid. For Continuous Quality Improvement, such controls are even more critical because procedures change as problems are identified and business processes become more efficient.
Employee Qualifications and Training - Monitoring employee qualifications and assigning training as necessary is an important part of quality improvement. As a business continuously improves quality, the required employee qualifications may change as work becomes more demanding. Documenting what Qualifications are needed to perform each job helps keep track of training requirements and enables a training programme to be developed that supports Continuous Quality Improvement.
Supplier Evaluation - As a business continuously improves quality, suppliers have to deliver material of increasing quality to match the improved quality of the businesses' output. Suppliers of components and materials play an important part in a businesses' quality process and many businesses work with suppliers to help formulate quality standards for their products or services.
Suppliers must be evaluated make sure they have their own quality programme in place. Incoming inventory needs to be inspected as it arrives to ensure parts and materials satisfy the required specifications and the deliveries correspond to what was ordered. Incoming inspections allow a business to evaluate whether their suppliers are performing to the level of quality needed and whether their quality programmes are effective.
Testing and Verification - A business can make sure the level of quality in their products improves continuously by adjusting their test procedures and verifying how their products improve. As the relevant test parameters increase, the quality of their products changes. Customer surveys may also verify to what extent their products have improved.
Identification of Non-Conformities - When employees don't follow procedures, or incoming material fails inspection or testing reveals defects, the exact nature of the problem has to be documented with non-conformity reports. The idea behind this process is to document in a neutral manner what aspect of the quality program was ineffective, which helps track problem areas and improve quality.
Corrective Actions - Non-conformity reports identify the root cause of problems and corrective action changes procedures, training and testing to eliminate those causes. For example, if an employee makes a mistake, it could be because he lacked training, the procedure wasn't clear or the process was badly designed. Corrective action addresses such issues in a positive, proactive way.
Ostendo Operations ERP for Quality Management
Effective quality management systems are required when an organisation needs to demonstrate its ability to consistently provide products and services that meet customer and applicable statutory and regulatory requirements.
Ostendo Operations (ERP) and Ostendo Freeway mobility have extensive functionality for Quality Management. Additional customised functionality and modules can be incorporated into Ostendo Operations (ERP) for Quality Management.
Related Articles