Our data exchange between Soft Tech V6 and Ostendo Operations (ERP) provides a complete solution for Aluminium Window and Door manufacturers.


Data Exchange Between V6 and Ostendo
We have developed a data exchange interface between Ostendo Operations (ERP) and Soft Tech V6 for window and door manufacturers.
Click here to read about how this industry has unique requirements with too much variability for ERP systems to handle.
Soft Tech's V6 software is specifically designed for manufacturers and fabricators of residential and commercial windows and doors. This industry has unique requirements with too much variability for ERP systems to handle.
V6 software produces a file containing customer and job information, the windows and doors being manufactured, a bill of materials of extrusions, components and glass, plus the labour time per work centre, which creates a job in Ostendo Operations (ERP). Our data exchange interface can be modified to meet specific requirements.
V6 software is available from Soft Tech who will work with you to evaluate and implement the system. We work with Soft Tech to implement the data exchange interface between V6 software and Ostendo Operations (ERP).
V6 Software and Ostendo Operations (ERP)
Ostendo Operations (ERP) and Ostendo Freeway complement V6 software. V6 software is for designing and quoting windows and doors, as well as automating manufacturing by feeding data directly to CNC, milling and saw machines.
Ostendo Operations (ERP) is for managing the operational processes of your business, such as;
Quote and job management

Option for projects with multiple jobs

Invoicing of jobs including do and charge invoicing or scheduled invoicing with claims and retentions

Purchasing to jobs or inventory from the office or in the field

Job costing and job tracking

Managing sub-contractors

Ostendo Freeway mobility app for onsite and mobile data collection and information, including; collecting site information for quoting in V6, site hazards, timesheets, checklists, materials used, photos, signatures, incident logging, instructions, reports and more

Labour and machine hours and cost per work centre, as defined for your business

Assignment board with capacity planning that syncs with Ostendo Freeway mobility

Deliveries of windows and doors with delivery notes

Plant and fleet maintenance

Inventory control with lot number tracking where applicable

Warehouse management with barcoding

Financials integration with accounting systems

Business process mapping

Business Intelligence reporting and dashboards

Custom developments if required
About V6 Software by Soft Tech
With V6 software you can have confidence that your quotes are accurate, what you produce complies with standards, is able to be manufactured and is profitable.
The simplified design process of V6 software enables accurate quotes to be sent to customers faster with correct information based on real time data. Existing quotes can be updated as customer requirements change.
V6 software has been built to be completely customisable for complex requirements, whether designing for residential, commercial or retail shop fronts. V6 software can handle complex designs for bespoke residential or highly complex curtain walls.
V6 software can help ensure that the right material is used in the right situation. It enables validation of designs in real-time, such as making sure the glass is the right size, the frames are suitable and can handle dead loads and wind loads.
V6 software supports designing and building windows and doors according to regulatory, manufacturing and energy standards, including engineering validation and other state or country based regulations.
V6 software is scalable, being used by businesses with only 1-5 employees through to large businesses with more than 1,500 employees.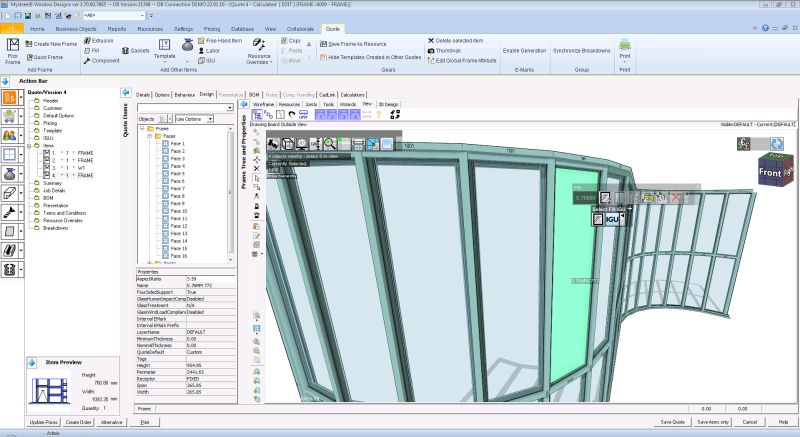 Related Articles