ERP software integrates core business functions into one complete system to streamline processes and information for improving business performance.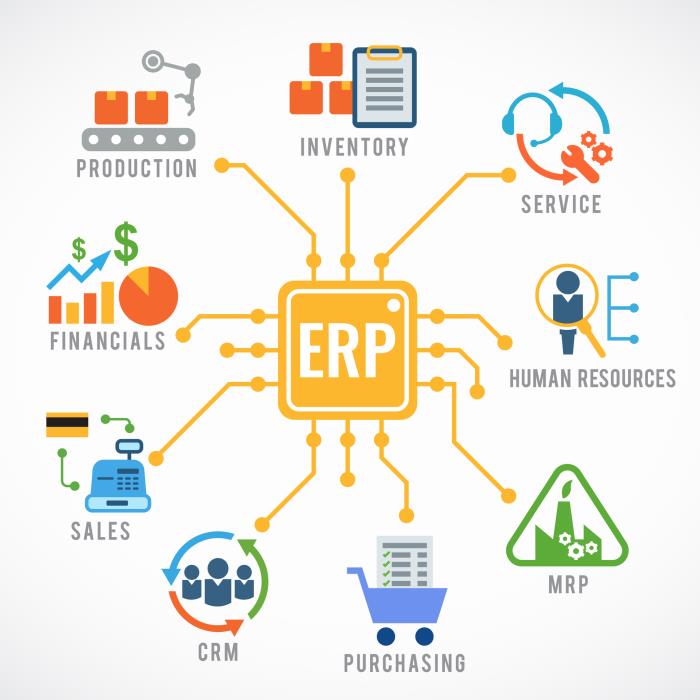 What is ERP?
ERP is an acronym for Enterprise Resource Planning, but the term is not self explanatory. It refers to software systems used to manage day-to-day business activities in one database. ERP systems eliminate data entry duplication and provides one source of information that contains accurate and real-time data.
ERP and Business Intelligence
A key feature of ERP systems is the centralised collation of data into one integrated database. This empowers staff to make better decisions more quickly than they could using data in unconnected standalone databases and/or spreadsheets that are prone to error.
Because ERP systems provide one consistent source of accurate real time information, management can get a comprehensive view of business operations at any time, while other staff can get the information they need to do their jobs more effectively.
Good visibility of information is becoming more important than ever for making timely decisions, responding to changing conditions and maintaining competitive advantage. To be able to improve business processes, measure progress and make well-informed decisions, businesses need the ability to easily access and analyse the right information quickly.
ERP systems include Business Intelligence tools for translating data into decision making information. These do not only consist of easy-to-use reporting and analysis, but also dashboards for Key Performance Indicators (KPI's) to monitor business performance on key metrics.
An integrated ERP system is a tool that will provide you with the visibility and information to improve your business performance, whether small or large.
ERP and Mobility
With the explosion in mobility technology, software developers are now incorporating mobility systems into their ERP systems.
This enables more efficient and real-time data collection for the ERP system as well as mobile access from anywhere to the information in the ERP system.
Ostendo Operations ERP Software
Ostendo Operations is an affordable ERP and Mobility software system for managing the operational business activities of small to large businesses.
Many Australian and New Zealand businesses are involved in a variety of diverse business activities such as manufacturing, service and maintenance, distribution and/or contracting, that make it difficult for many ERP systems to meet all their requirements. Ostendo Operations is designed to handle any mix of these business activities and because it can be configured in many ways it has the versatility to meet a wide variety of business requirements.
Ostendo Operations is a modern ERP system that has the depth of functionality to scale easily to the requirements of businesses as they grow. Ostendo Operations ERP is mature and feature rich and has the capability to meet complex business requirements.
Ostendo Operations ERP includes Ostendo Freeway mobility which provides Enterprise Mobility across all areas of the system for your business.
Selecting the right software provider is just as crucial as selecting the right software system. The experience and qualifications of the consultant team is critical to a successful implementation.
Related Articles