Ostendo Freeway is a mobility solutions platform which can be used to run multiple solutions for a variety of business requirements.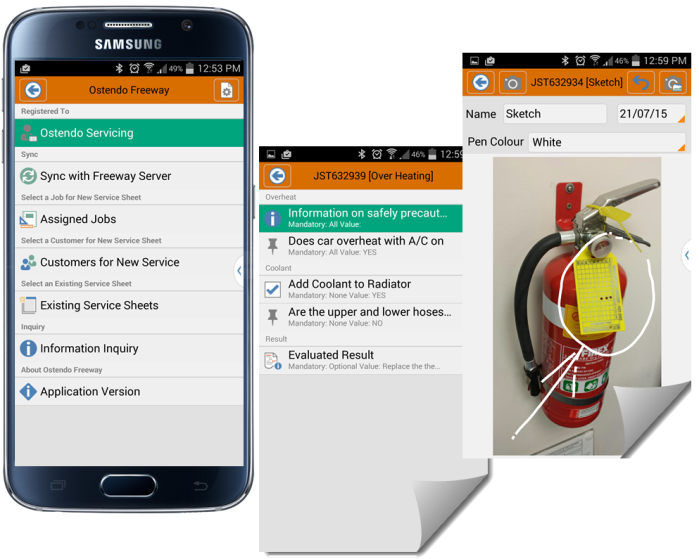 What is the Ostendo Freeway App?
Ostendo Freeway is a mobility platform for recording data or sharing knowledge. Ostendo Freeway has the functionality to provide mobility solutions to almost any business or organisation.
Ostendo Freeway Enterprise Mobility
Ostendo Freeway provides Enterprise Mobility across all areas of the business when integrated with the Ostendo Operations (ERP) system. This is when the full extent of the functionality in Ostendo Freeway is able to be utilised.
Ostendo Freeway Accounting Solutions
In the near future Ostendo Freeway will also link with popular accounting programmes such as MYOB Essentials and AccountRightLive, Xero, Intuit QuickBooks, Reckon Accounts, Reckon One and MoneyWorks.
Ostendo Freeway Standalone Solutions
In the near future Ostendo Freeway will also be able to directly to work with authorised standalone solutions which are independently developed for specific industry verticals, eg: Electricians Certificate of Compliance (COC) and Electrical Safety Certificate (ESC), and eSafety for Health and Safety.
There will be public standalone solutions available to everyone but private standalone solutions can be specifically developed for your business or organisation.
Ostendo.Work Cloud System
In the near future Ostendo Freeway will also come with an optional cloud repository system. This can be used with Standalone Solutions developed for Ostendo Freeway.
Operating System
Ostendo Freeway is a native Android and Apple iOS application designed to run on smart phones and tablets. The screens are designed to scale automatically from smart phones to tablets.
Can Operate Outside of Network Coverage
Ostendo Freeway can be used outside of network coverage and synchronise data when back in coverage. Ostendo Freeway is a true native application that runs on a smart device with its own relational database. It doesn't just cache data like most other mobility apps that run on an internet connection.
Because Ostendo runs on a smart device with its own relational database, its speed and performance is not affected if the speed and quality of internet coverage is low.
Fast and Simple setup
The primary objective of Ostendo Freeway is to enable fast set up and deployment of customised mobile solutions that can improve your business performance.
Ostendo Freeway is not hardcoded or forms based as with most other mobility apps on the market. It is designed to be solution driven, enabling you to setup your own user definable solutions within the system. No programming skills are required.
Define Your Own Solution
Our consultants will work with you to create your own user definable solution that can be made up of any combination of objects, such as timesheets, material lists, notes, check lists, images, signatures, sketches and much more.
We can create any number of solutions for specific types of work, applications, clients or employees to record data, meet compliance requirements, publish Guides for instructions or procedures, distribute product catalogues and much more. We can define what data is to be displayed and/or collected, what is mandatory and what is not.
Easy to Use
Ostendo Freeway is intuitive and easy to use. The flow of work and simplicity of use is controlled by how the solution is designed.
Related Articles