Compliance Management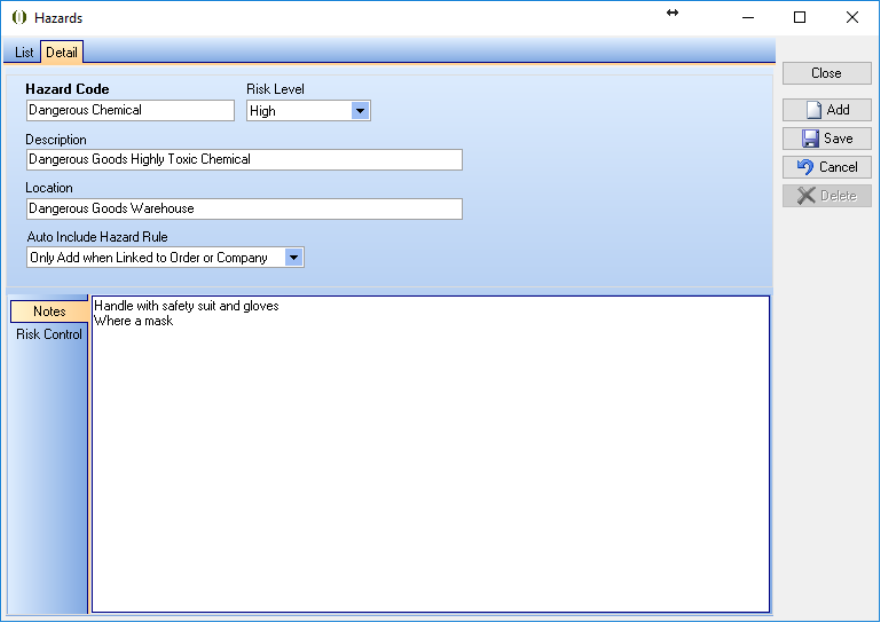 Compliance
Tracking of employee qualifications, licenses/tickets (with expiry dates) and capabilities that can be matched for different types of work.
Tracking of internal asset certifications and capabilities that can be matched for different types of work.
Option for employees or assets to not be scheduled for work without the required capability.
Hazards can be defined for;

Inventory.

Typical hazards for inventory will be related to material safety data sheets or handling instructions.

Bills of Material and manufacturing. Typical hazards for manufacturing will be related to material safety data sheets or handling instructions and the machinery or equipment used in the manufacturing process.

Types of Jobs and Jobs.

Typical hazards for types of job and jobs could be the kind of tools used (eg scaffolding or ladders).

Customers and customer sites. Typical hazards for customers will be site related (eg dangerous chemicals stored on site).

Hazards are listed first in order of Risk Level (Extreme, High, Moderate, Low).
Document and Image Library with linked documents and images to any record.
Date stamped History Notes.
Health and Safety
Customised solutions for compliance with Health and Safety including Covid Safety such as;
Visitor Register

Covid-19 safety sign off

Covid-19 Contact Tracing Register

Hazard Register

Inductions

Prestart Checklists

Safety Plans

Inspection Checklists

Meeting Records

Incident Investgation

Near Miss Investigation

Risk Assessments

Monitoring Checklists
Ostendo Freeway Compliance
Signing off or adding hazards for health and safety for inventory, manufacturing, jobs and customer sites.
New Hazards can be added from the Ostendo Freeway app.
Instructions can be defined for items or jobs.
Internal datasheets can be used to drive compliance.
Conditional checklists can be used create compliance checklists. Conditional Checklists make the process dynamic. Depending on the answers to the preceding questions, the Conditional Checklist can take a variety of paths so that the relevant set of questions are asked and responded to, according to the actual situation. The checklist can finish with a 'Pass' or 'Fail' result.
Capture multiple signatures with mandatory setting.
Add internal or external notes. View past history notes against assets, jobs or customers.
Use voice recordings instead of typing notes, or record noises for service purposes.
Integrates with device camera to take photos or link to existing images on the device.
Draw on photos to highlight points of note, or draw freeform sketches.
Forwarding of a partially completed Datasheet by one user to another, eg to a Supervisor for approval.
Custom Functions and Modules for Compliance
We can customise simple to complex functions and modules in Ostendo Operations (ERP) for specific Compliance Management requirements, such as supporting Health and Safety.
Data Exchange for Compliance
We can customise data exchange interfaces between Ostendo Operations (ERP) and third party systems to support Compliance.
Standard Data Exchange interfaces for Ostendo Operations (ERP) that we have already developed with systems that support Compliance include;
Repstor Enterprise Content Management system for controlled management of documents, emails and notes.