Distribution Requirements Planning (DRP) and Deliveries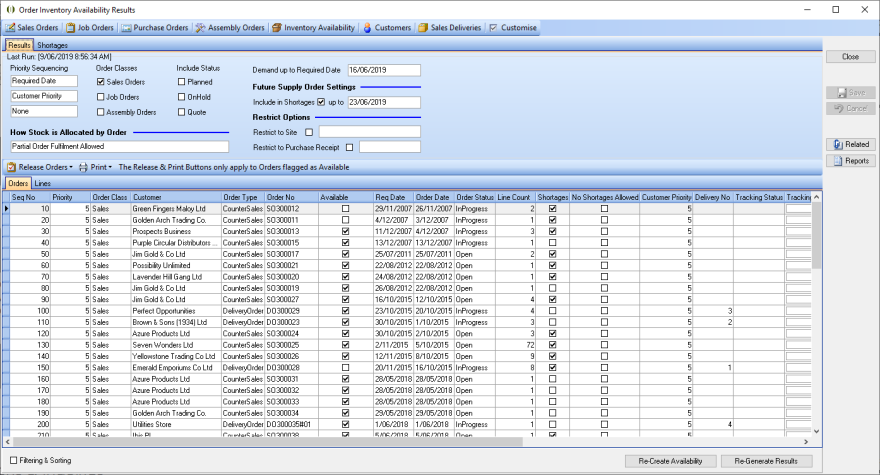 Distribution Requirements Planning (DRP)
Multiple planned delivery dates per sales order
Predefined Shipping Methods
Distribution Requirements Planning (DRP) for sales deliveries based on required date, a

vailable inventory,

order priority, delivery zones and other factors
Item pick times for calculating planned picking time of orders and tracking actual pick time. Allows planning for items that take longer to pick than others, eg require a forklift to pick.
Barcoding, fully compliant with GS1 standard
Multiple deliveries per sales order with delivery note
Picking List in order of bin location, rack, row etc
Delivery Note, shipping labels and Shipping Trace ID
Can automatically email delivery advice to the customer
Charge freight manually, or calculated from freight rates per item weight and or volume
Ostendo Freeway Mobility Picking and Deliveries
Schedule your deliveries on the Assignment Board by carrier, by delivery run or delivery zone. The schedule can be updated as assignments are started and bump other assignments along.
GPS coordinates and time stamps for On & Off site. Plot the location of employees on a Google map within Ostendo.
Hazards can be defined for inventory. Typical hazards for items will be related to material safety data sheets or handling instructions, for customers they will be site related (eg dangerous chemicals stored on site). Hazards are listed first in order of Risk Level (Extreme, High, Moderate, Low).
New Hazards can be added from the Ostendo Freeway app.
Control access to picking or handling certain types if items, eg dangerous goods, heavy goods etc.
Define the number of days before the expiry date that can be supplied to customers
Instructions can be defined for items.
Pick inventory to sales orders and record notes, with or without barcoding
Deliver orders to customers and obtain proof of delivery by photo and/or signature
Proof of delivery can be emailed to the customer
Mandatory or optional checklists and data capture. A checklist is a pre-defined list of questions or pointers to guide a user and ensure that employees follow a disciplined and consistent process.
Capture multiple signatures with mandatory setting. Options to prevent changes to data sheets after customer signature.
Add internal or external notes which can update specific note fields in Ostendo Operations. View past history notes against sales deliveries or customers.
Use voice recordings instead of typing notes, or record noises for service purposes.
Integrates with device camera to take photos or link to existing images on the device.
Draw on photos to highlight points of note, or draw freeform sketches.
Two way text messaging to other staff.
Phone or text the customer from the app.
Integrates with Google maps for directions from your current position.
Branding with logo to control the look of the Front Screen on the app.