Information System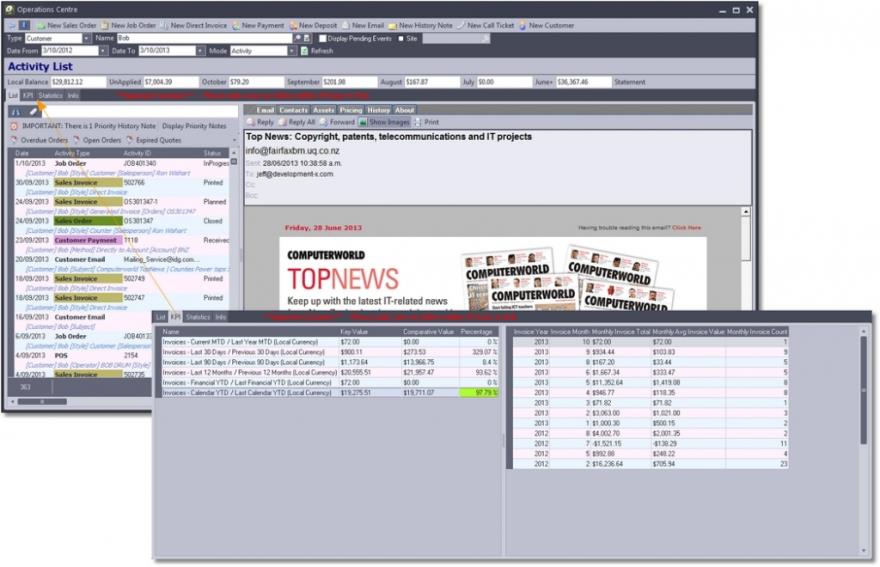 Ostendo Information System
Operations Centre screen for complete view of transactions, business information, KPI's and statistics with drill down to records for;

Customers

Suppliers

Manufacturing

Jobs

Customer Assets

Sales Orders

Purchasing

To Do's

Document and Image Library with linked documents and images to records and transactions. Can link to cloud based document libraries including Sharepoint.

Option to copy linked documents and images to transaction records, (eg jobs, work orders, sales orders, purchase orders) with option to print with order forms.

Auto folder creation for Jobs and Work Orders which auto attach documents and images

Date stamped History Notes

Knowledgebase with linked documents and images

Unlimited Property fields to attach additional information to key records, eg specifications, that can copy from master records to transactional records

Unlimited Additional Fields to most screens, that can copy from master records to transactional records

Frequently used text for notes in any record

Emails sent through Microsoft Outlook or most email browsers

Outlook Add-In (requires Ostendo Web Services) to assign emails to various records and transactions

Auto assign emails from Outlook to customers and suppliers (requires Ostendo Queue Services) based on company and contact emails. Emails that are not auto assigned can be assigned manually

Email Services (requires Ostendo Queue Services) to auto email through Outlook and/or print at specific times or intervals, eg management reports, sales delivery advice, reminders for tasks, actions or quote follow ups, system alerts etc

Location map on customers, suppliers, orders and jobs linked to Google Maps.

User-defined background and button styles. Options include, logo in the background and user defined buttons.
Ostendo Freeway Guides
User defined guides with images and text for instructions, manual, standard operating procedures etc.

Can be used for internal reference or made available for customers on the Freeway app.