Jobs and Projects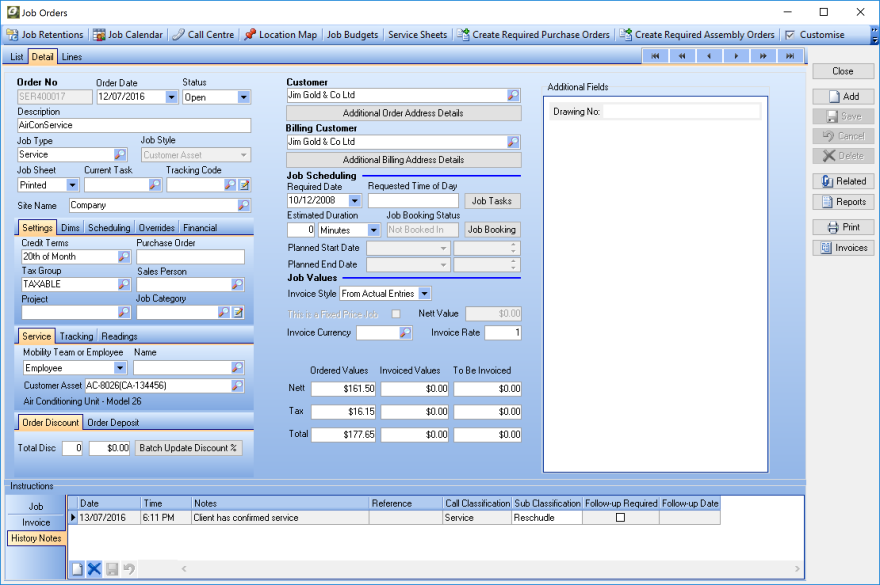 Jobs
User defined Job Types with options, eg

Preventive Maintenance and Breakdown Maintenance for customer or internal assets
Service Contracts
Engineering and Jobbing
Capital Equipment and Projects with manufacture and installation
Base Contract and Variations
Contracting
Research and Development
Refurbishment of inventory for sale
Rework
Warranty work

Projects with multiple jobs
Option for multiple tasks within each job
Templates of items and labour that can be configurable when inserting onto a job
Order dimensions for calculating quantities, eg paint for SQM area
Hazards can be defined for;

Types of Jobs and Jobs. Typical hazards for types of job and jobs could be the kind of tools used (eg scaffolding or ladders).

Customers and customer sites. Typical hazards for customers will be site related (eg dangerous chemicals stored on site).
Ostendo Freeway Mobility for Jobs
Create new jobs and quotes.
Receive customer deposits to jobs.
Schedule your onsite installation projects or contracting work on the Assignment Board and automatically update assignments on the Ostendo Freeway app. The schedule can be updated as assignments are started and bump other assignments along. Options are available for employees to accept or decline an assignment.
GPS coordinates and time stamps for On & Off site. Plot the location of employees on a Google map within Ostendo.
Employees or teams can work on existing jobs only or be able to create new quotes, jobs and invoices.
Hazards can be defined for inventory, job types, jobs, customers or customer sites. Typical hazards for items will be related to material safety data sheets or handling instructions, for customers they will be site related (eg dangerous chemicals stored on site), or for jobs it could be the kind of tools used (eg scaffolding or ladders). Hazards are listed first in order of Risk Level (Extreme, High, Moderate, Low).
New Hazards can be added from the Ostendo Freeway app.
Instructions can be defined for items or jobs.
Record job time sheets by Start Stop button, manually by time of day, hours or fixed times. Time can be booked directly to jobs, create a new time sheet or add to an existing time sheet.
Option to group employees into teams which work on a "pooled" basis and assign work to the Mobility Team. Anyone in the team can take a job in the queue assigned to the pool. Once a team member takes a job, it will not be available to anyone else in the team. The assignment will then be assigned to that individual team member only and the assignment board will be updated accordingly.
Mandatory or optional checklists and data capture. A checklist is a pre-defined list of questions or pointers to guide a user and ensure that employees follow a disciplined and consistent process.
Conditional Checklists can be used to help employees follow a pre-defined process to carry out tasks such as business processes, problem diagnosis, compliance certifications, quality assurance and so on. Conditional Checklists make the process dynamic. Depending on the answers to the preceding questions, the Conditional Checklist can take a variety of paths so that the relevant set of questions are asked and responded to, according to the actual situation. The checklist can finish with a 'Pass' or 'Fail' result.
Statistical Quantities can record quantities or collect statistical data such as recording quantity complete, measuring productivity rates, capturing quality control data such as temperature readings, or to keep track of work performed to date. The recorded quantities can be set to update statistics of the associated Customer, Site or Item.
Capture multiple signatures with mandatory setting. Options to prevent changes to data sheets after customer signature.
Add internal or external notes which can update specific note fields in Ostendo Operations. View past history notes against jobs, assets or customers.
Use voice recordings instead of typing notes, or record noises for service purposes.
Integrates with device camera to take photos or link to existing images on the device.
Draw on photos to highlight points of note, or draw freeform sketches.
Two way text messaging to other staff.
Phone the customer from the app.
Integrates with Google maps for directions from your current position.
Email and/or print details to the customer or the office.
Forwarding of a partially completed Datasheet by one user to another, eg to a Supervisor for approval.
Graphical Guides for any type of information for internal or external use, eg manuals, specifications, step by step instructions, FAQs, standard operating procedures etc.
Branding with logo to control the look of the Front Screen on the app.
Job Invoicing
Modify markup and margin by job, task, user defined classification (labour, materials, subcontractors etc) or each line item
Different invoice options

Quote or Do and Charge
Multiple invoices per job
Display job line details
Display summary line or user defined lines
Display summary of labour, materials etc

Invoice notes at job, task and line level
Invoice multiple jobs
Invoice multiple jobs per project
Progress Claims with certified values
Retentions with multiple levels and due dates