Quality Management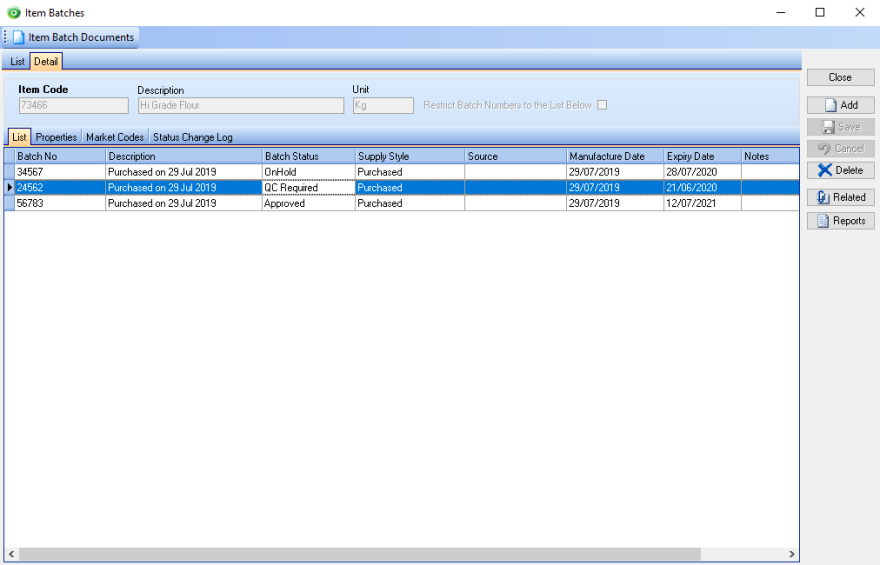 Quality Management
Inventory traceability by batch number, expiry date, serial number and revision number
Option for specific Quarantine locations
Items can be set to require QC checks before being released for use
Batch records with;

QC status with change log history
Date of manufacture
Expiry date (if required)
Notes
Linked documents that can optionally print with invoices
QC test results or measurements
Market codes for standards complied with such as certifications and country of eligibility

Market codes can be set against customers so that only batches with a corresponding market code can be shipped to them, eg a customer requires product certified for the EU market
Only batches with a QC status of approved can be shipped or used in manufacturing
Batch numbers can be preset in advance if required.
Define the number of days before the expiry date on products that can be supplied to specific customers.
Standard operating procedures in Bills of Material and linked documents.

Hazards defined by items. Typical hazards for items will be related to Material Safety Data Sheets (MSDS) or handling instructions.

Call Centre can record and manage incidents that requires a process to be followed, such as Quality Non-Conformances, Corrective Actions and Return Merchandise Authorisation's (RMA), Engineering Change Management etc. Classifications enable trend analysis and reporting.
Document and Image Library with linked documents and images to any record.
Date stamped History Notes.
Custom Reporting and Business Intelligence
Full traceability reporting forward or back from a batch or serial number.

Supplier and customer

DIFOTIS reporting (Delivery In Full On Time In Spec)
Trend analysis for Non-Conformances, test results, temperatures etc.
Ostendo Freeway Quality Management
Internal datasheets can be used to drive quality control.
Conditional checklists can be used create quality control checklists. Conditional Checklists make the process dynamic. Depending on the answers to the preceding questions, the Conditional Checklist can take a variety of paths so that the relevant set of questions are asked and responded to, according to the actual situation. The checklist can finish with a 'Pass' or 'Fail' result.
Quality Control checklists can be used for;

Purchase receipts
Completion of work order routing steps
Finished goods receipts from work orders
Installation of equipment
Completion of jobs or project stages

Can update QC status, test results or measurements, market codes on batch records, based on user permissions.
Statistical Quantities can be used to record quality control data such as temperature readings, quantity complete and number of rejects. The recorded quantities can be set to update statistics of the associated product or service.
Capture multiple signatures with mandatory setting.
Add internal or external notes. View past history notes against assets, jobs or customers.
Use voice recordings instead of typing notes, or record noises for service purposes.
Integrates with device camera to take photos or link to existing images on the device.
Draw on photos to highlight points of note, or draw freeform sketches.
Forwarding of a partially completed Datasheet by one user to another, eg to a Supervisor for approval.
Custom Functions and Modules for Quality Management
We can customise simple to complex functions and modules in Ostendo Operations (ERP) for specific Quality Management requirements to supplement the standard Quality functions. This can range from additional tables to capture specific data from external sources to a whole Quality Management module added to Ostendo Operations (ERP).
Data Exchange for Quality Management
We can customise data exchange interfaces between Ostendo Operations (ERP) and third party systems to create one integrated Quality Management System.
Standard Data Exchange interfaces for Ostendo Operations (ERP) that we have already developed with systems that support Quality Management include;
Repstor Enterprise Content Management system for controlled management of documents, emails and notes.
XL800 Visual Monitoring Device from Workflow for monitoring production performance capturing data for Continuous Improvement.
MicroScan SCADA system by Intech Instruments for capturing data such as temperature readings for Quality Control and Assurance.
3WS Dispensing System by Wayahead for accurate weighing and dispensing of raw materials to work orders.
Click here to find out more about how we can provide a Quality Management Solution for your business.