Sales Orders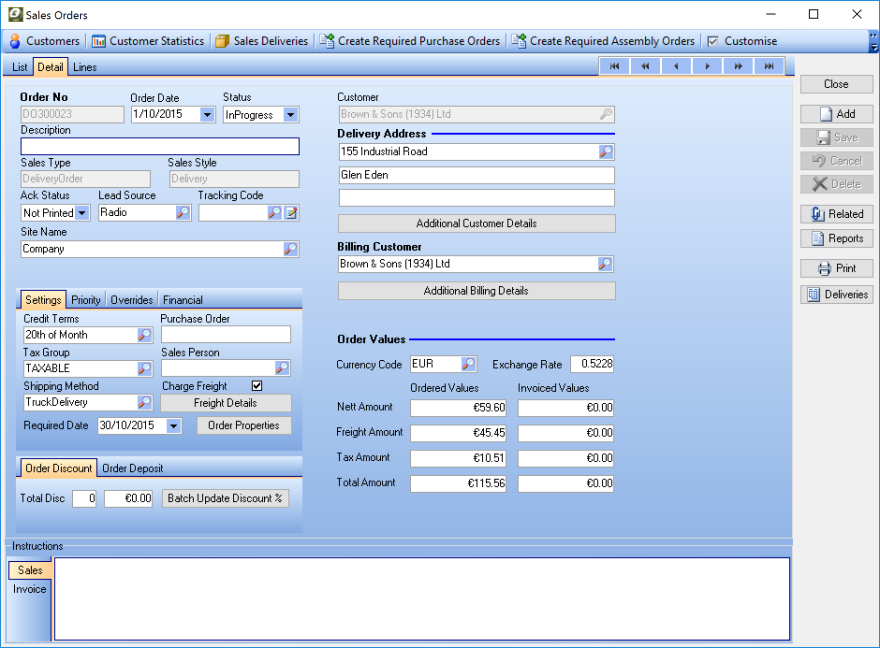 Sales Orders
Order and billing customers
Unlimited delivery addresses per customer or manual override
Inventory onhand, available, free quantity and projected availability visible at order entry
Order pad entry templates with option to be based on customer order history
Blanket Orders
Stock reservations for specific sales orders or customers, eg to reserve stock for a large order or a priority customer so it is not sold on other orders
Full picking and delivery process or quick counter sale invoicing
Invoice each delivery or multiple deliveries and multiple orders
Product credits and write-offs
Order entry of multiple pack sizes with variable conversion factors, e.g. quantity of hams but charge by the kg where each ham has a different weight
User defined Order entry Matrix, eg colour, size, style options
Ostendo Freeway Mobility Field Sales
Hierarchical graphical product lookups and catalogues.
Create new customers or prospects, or update existing customer details.
Create new CRM sales opportunities. Add notes and assign follow up actions.
Create new sales orders and quotes.
Receive customer deposits to sales orders.
Generate an instant invoice and receive payment.
Mandatory or optional checklists and data capture. A checklist is a pre-defined list of questions or pointers to guide a user and ensure that employees follow a disciplined and consistent process.
Capture multiple signatures with mandatory setting. Options to prevent changes to data sheets after customer signature.
Add internal or external notes which can update specific note fields in Ostendo Operations. View past history notes against sales orders or customers.
Use voice recordings instead of typing notes, or record noises for service purposes.
Integrates with device camera to take photos or link to existing images on the device.
Draw on photos to highlight points of note, or draw freeform sketches.
Two way text messaging to other staff.
Phone the customer from the app.
Integrates with Google maps for directions from your current position.
GPS coordinates and timestamps for On & Off site. Plot the location of employees on a Google map within Ostendo.
Email and/or print details to the customer or the office.
Forwarding of a partially completed Datasheet by one user to another, eg to a Supervisor for approval.
Custom Functions
Data exchange with web stores to update customers, item pricing and quantities from Ostendo and receive sales orders and customer deposits into Ostendo Operations (ERP).