Surviving and Recovering from the Global Economic Impact of Covid-19
A global recession has already started and now is the time for businesses to act to improve their systems and processes so they can meet the global economic challenges caused by the Covid-19 pandemic.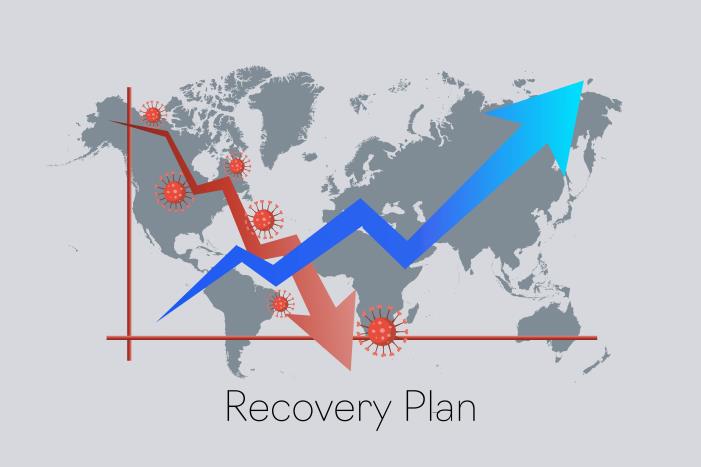 Gloomy Economic Forecast
The latest economic forecasts indicate that the Covid-19 pandemic has had a more negative impact on economic activity in the first half of 2020 than anticipated. The recovery is projected to be more gradual than previously forecast.
Last week the World Trade Organisation (WTO) announced that global trade in goods and services fell by nearly 20% in the second quarter of 2020, compared to a year earlier, because of the Covid-19 pandemic. The volume of merchandise trade shrank by 3% in the first quarter and initial estimates pointed to a year-on-year decline of 18.5% for the second quarter.
Also last week the International Monetary Fund (IMF) announced that economic activity in 2020 is likely to decline by almost 5%, substantially worse than its forecast of 3% only 10 weeks previously in April. In 2021 global growth is projected at 5.4%, which is 6.5% lower than the projections in January 2020 before the Covid-19 pandemic.
The virus is devastating the economies of the countries that failed to act early and the consequence of delayed action is greater economic and social damage, as can be seen in the IMF country forecasts below.
| | | |
| --- | --- | --- |
| Country | 2020 | 2021 |
| UK | -10.2% | +6.3% |
| US | -8% | +4.8% |
| Germany | -7.8% | +5.4% |
| Italy and Spain | -12.8% | +6.3% |
| China | +1% | +8.2% |
| Brazil | -9.1% | +3.6% |
| Australia | -4.5% | +4.0% |
Consumer Spending Down
The IMF now expects a larger hit to consumer spending. Its report points out something that is unusual about this downturn.
"Usually people dip into savings, or get help from family and welfare systems to reduce the fluctuations in their spending. Consumer spending usually takes a much smaller hit in a downturn than business investment. But this time, lockdowns and voluntary social distancing by people who are wary of exposing themselves to infection risks have hit demand."
The IMF also expects people to do more "precautionary saving", reducing their consumption because of the uncertain outlook ahead. More businesses going out of business and people being unemployed for longer mean that it is harder for economic activity to rebound.
Impact on Small to Medium Businesses
Last week, the International Trade Centre (ITC) reported that small to medium businesses (SME) are being hit hardest by the impact of Covid-19. In the ITC's global business impact survey of thousands of businesses in 132 countries between April and June, about 20% of SME businesses say they risk shutting down permanently.
There is also the challenge that the efficiency of businesses is likely to be in undermined by the steps they take to improve safety and hygiene in order to reduce the risk of workplace transmission of Covid-19.
This could have major implications for global employment since small to medium businesses are the biggest employers.
High Unemployment
The IMF said last week, that because the continuing recessions in most developed economies would be worse than predicted, unemployment would be well above pre-Covid-19 levels even by the end of 2021.
Australia, New Zealand, the UK, Canada and much of Europe are propping up their economies with government spending to save jobs and keep consumer spending going.
The US though has not done this despite unemployment hitting levels which have never been seen before. This chart shows just how serious unemployment is in the US. Compare the 2008 Financial crisis that saw mass unemployment to what is happening now with the Covid-19 pandemic.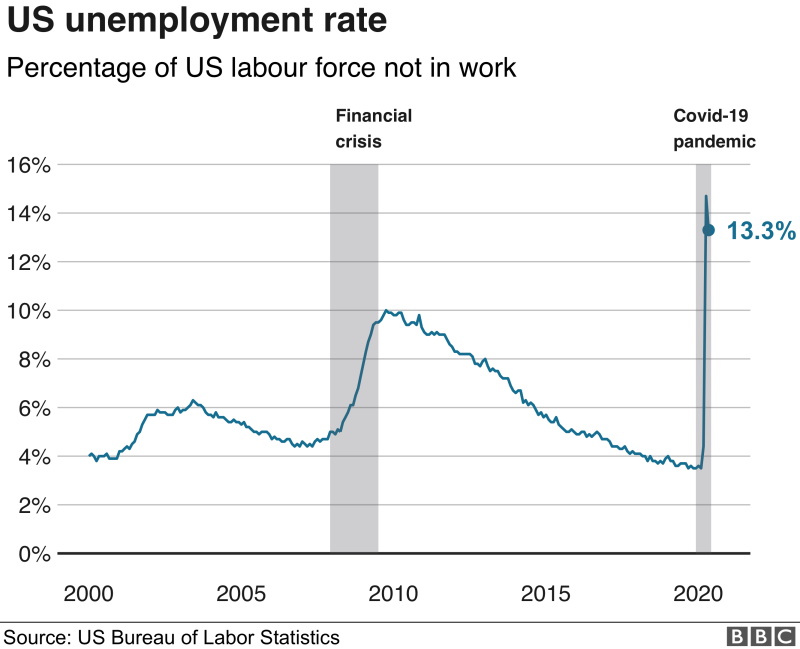 The US has become the epicentre of the Covid-19 pandemic as a result of the reluctance by the Trump administration to act decisively to stop the spread. As a consequence its economy is facing enormous difficulties which is already having a significant impact on the global economy.
Impact on Australia and New Zealand
Countries like Australia and New Zealand, that acted early have experienced less economic and social impact and have been able to restart their economies more quickly than those who acted too late.
The IMF actually lifted its forecast for the Australian economy in 2020, forecasting a decline of 4.5%, instead of 6.7% in its April forecast. But the IMF has also projected a smaller rebound for Australian economy in 2021, forecasting growth of 4%, instead of 6.1% in its April forecast.
While Australia and New Zealand have given themselves an advantage compared to the rest of the world, they cannot escape the effects of the global recession. The Australian and New Zealand economies are small and highly trade-exposed, so will be significantly impacted by what happens in the global economy.
The Australian and New Zealand economies are being propped up by government spending to save jobs and keep consumer spending going. What happens when that government spending comes to an end is where a lot of uncertainty lies.
Improving Your Business Performance
When the economy is in recession, businesses need to reduce costs and improve efficiencies as much as possible. Never before has it been more important for businesses to have real time information at their fingertips to make timely decisions and respond quickly to changing conditions.
Businesses need to start preparing now to survive and recover from the global economic impacts of Covid-19.
An integrated ERP (Enterprise Resource Planning) business system can give you the information and visibility to improve your business performance.
If important data is collected in a timely manner, an ERP system can be a single source of truth for real time up to date information. This information gives you the visibility to empower you to improve business processes and increase efficiencies.
Improved visibility of information to control your business and make critical decisions quickly.
Improved analysis and reporting to monitor Key Performance Indicators (KPI) and trends and

identify opportunities for business process improvement

.
Improved planning and tracking of production orders and jobs to improve efficiency, increase utilisation of resources, increase capacity and reduce downtime.
Improved access to information and more timely data collection anywhere using an enterprise mobility app, which supports contactless work and compliance for Covid-19 safety.
Improved tracking of preventive service and maintenance for plant and fleet to minimise breakdowns that disrupt operational capacity.
Improved productivity performance by identifying performance deviations so corrective action can be taken.
Improved supply chain management and procurement to ensure you have the right amount of materials and supplies available when required, especially with the disruption to the supply chain from Covid-19.
Improved inventory control to reduce overstocking and therefore the value of inventory in stock which frees up capital.
Improved customer relationship management and sales analysis for direct marketing and identifying new sales opportunities.
Improved accuracy of quoting and pricing for more control of margins and profitability to give you a competitive advantage.
Improved online capabilities for online ordering and service requests.
Improved on-time delivery with reduced lead times and more accurate delivery promises.
Improved quality assurance and quality control to consistently meet quality standards and support continuous quality improvement and ISO9000 accreditation.
Improved compliance with regulatory requirements and industry standards including certifications, health and safety and Covid-19 safety.
Any ERP system only becomes a solution for you if you use it effectively with sound business processes. That is why the experience and qualifications of the software provider's consultant team is critical to a successful implementation of the right processes needed to use an ERP system effectively.
We have a team of consultants who are highly experienced in operational and financial processes and have the industry knowledge to help you improve your business processes. We follow Lean principles and thinking in our business process improvement services and ERP system implementations.
There is an initial cost in implementing the right processes to use an ERP system effectively, but it will be repaid many times over as you use it to improve your business performance. The cost of not using an ERP system effectively may very well be higher than the cost of of making such an investment in your business.
We specialise in Ostendo Operations (ERP), which is an affordable ERP system with a high level of functionality that is designed for small to large businesses.
Ask us how we can help you improve your business performance.